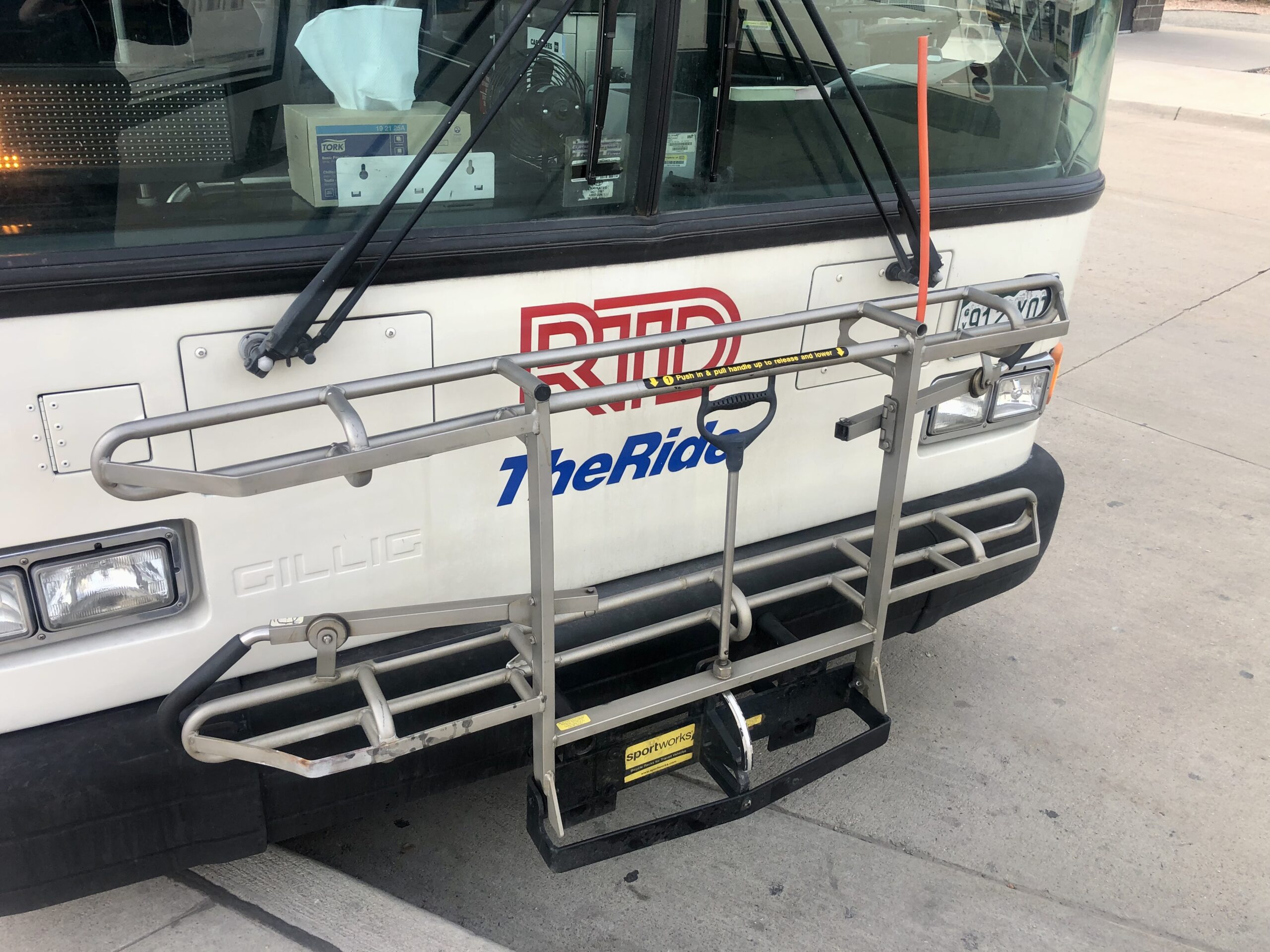 E-Bikes on RTD
Update: Oct 19, 2022 – SUCCESS!
RTD has announced today that, from Tue Nov 15th 2022, e-bikes will be allowed on buses & trains!
55lb weight limit for front of bus racks, not allowed on light rail high-blocks.
Thanks to all who supported our campaign!
At present, the Denver Metro Area's main transit agency, The Regional Transportation District (RTD), officially prohibits all electric bicycles (E-Bikes) on trains and buses.
RTD has acknowledged the existing policy was written for small internal combustion vehicles and that they will be consulting on a new policy with the preliminary plan to eventually allow E-Bikes that weigh up to 55 pounds on all of their trains and buses. In effect, qualifying E-Bikes could potentially be treated exactly like conventional bikes.
However, RTD has yet to officially commit to changing their policy on E-Bikes. Knowledge of the initiative is based only on a statement from RTD General Manager and CEO Debra Johnson during the RTD Board Meeting from Tuesday, June 28th 2022 on a revised RTD e-bike policy: "I anticipate reviewing & conferring with staff; subject matter teams on a path forward in the next two weeks." Debra speaks about e-bikes at 55:13 in the video linked above, and as of mid-July 2022, the still-verbal-only commitment extends only to looking at their policy – not that RTD would actually begin allowing E-Bikes on trains and buses.
Changing RTD's policy as soon as possible is most important to land in conjunction with Denver and the State of Colorado's very strong new rebate programs for E-Bikes. With a surging number of new E-Bike adopters already changing their habits, it is essential that RTD is accepting of E-Bikes for that transition in order to capture this potential ridership bump. By combining an E-Bike with transit, bikers and RTD riders can substantially extend their personal low-carbon mobility range. Whether coming from a transit utility, climate change mitigation, or social equity standpoint, we believe this is the right thing to do.
We support RTD in rapidly shifting its policy to support the personal mobility renaissance that E-Bikes have made possible. We implore RTD to begin allowing E-Bikes on all trains and buses as soon as possible.
Update: Sep 28th, 2022
– Not mentioned at RTD board meeting.
Update: Jul 26th, 2022
– Internal risk meeting Aug 3rd.
– Operators need training.
– 'End of the month' (Aug 2022) was mentioned as a possible date for policy change.
Discussion at 2:55:26: https://youtube.com/watch?v=1_532ybRHBA