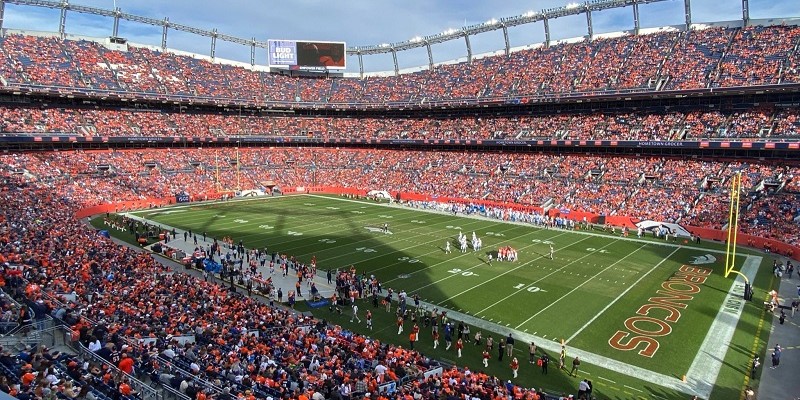 BroncosRide
GDT > RTD Rider's Guide > BroncosRide
Empower Field at Mile High, the home of the Denver Broncos, has numerous bus and rail options to get to the game and, with parking costing up to $60, there is no reason to drive. Located on the east side, the Empower Field at Mile High Station is the closest rail station to the stadium and E and W line trains take just 4 mins to get there from Union Station. The Decatur / Federal station is located to the south and has W line trains plus 1, 15L and 16 buses which serve Lakewood and Colfax Avenue. Finally, bus routes 30 and 31 stop on Federal Blvd, which runs just west of the stadium.
RTD often runs additional C line trains from Union Station to Littleton – Mineral for events at Empower Field, although these are not usually loaded into journey planners. If you see one, it's available to use!
For a more interesting way to the stadium, the Denver Trolley operates special event service from Confluence Park / REI. Fares start from $7.
What Happened to the BroncosRide Buses?
In July 2021 RTD issued an internal memo citing a severe shortage of operators and equity concerns as reasons for suspending its popular BroncosRide gameday bus service for the 2021 season. Since then, the agency has confirmed that the suspension is permanent and BroncosRide is cancelled for the 2022 Denver Broncos season.
While we understand that providing the service is difficult given the current operator shortages, we are disappointed that limited service to select non-rail park & ride sites is not being considered for reinstatement. For many riders, BroncosRide is their first experience of using public transit and an easy to use bus service which allows fans to avoid the traffic is a huge source of goodwill for RTD.
2023 Home Schedule
7:00pm Sat Aug 26th – Los Angeles Rams
2:25pm Sun Sep 10th – Las Vegas Raiders
2:25pm Sun Sep 17th – Washington Commandos
2:25pm Sun Oct 8th – New York Jets
2:25pm Sun Oct 22nd – Green Bay Packers
2:25pm Sun Oct 29th – Kansas City Chiefs
6:20pm Sun Nov 19th – Minnesota Vikings
2:25pm Sun Nov 26th – Cleveland Browns
6:15pm Sun Dec 24th – New England Patriots
2:25pm Sun Dec 31st – Los Angeles Chargers
Below are some schedules that explain how to get to Empower Field using existing RTD services. Afternoon games kick off at 2:25pm, while evening games start at 6:15, 6:20 or 7pm.

North Schedules
Thornton, Northglenn &
Brighton (not Sundays).
Connections from N Line
stations to Empower Field.
Afternoon Games
Evening Games

East Schedules
Central Park, Montebello,
Aurora & Green Valley Ranch.
Connections from A & R Line
stations to Empower Field.
Afternoon Games
Evening Games

West Schedules
Lakewood &
Golden.
Connections from W Line
stations to Empower Field.
Afternoon Games
Evening Games

Northwest Schedules
Wheat Ridge, Arvada
& Westminster.
Connections from B & G Line
stations to Empower Field.
Afternoon Games
Evening Games