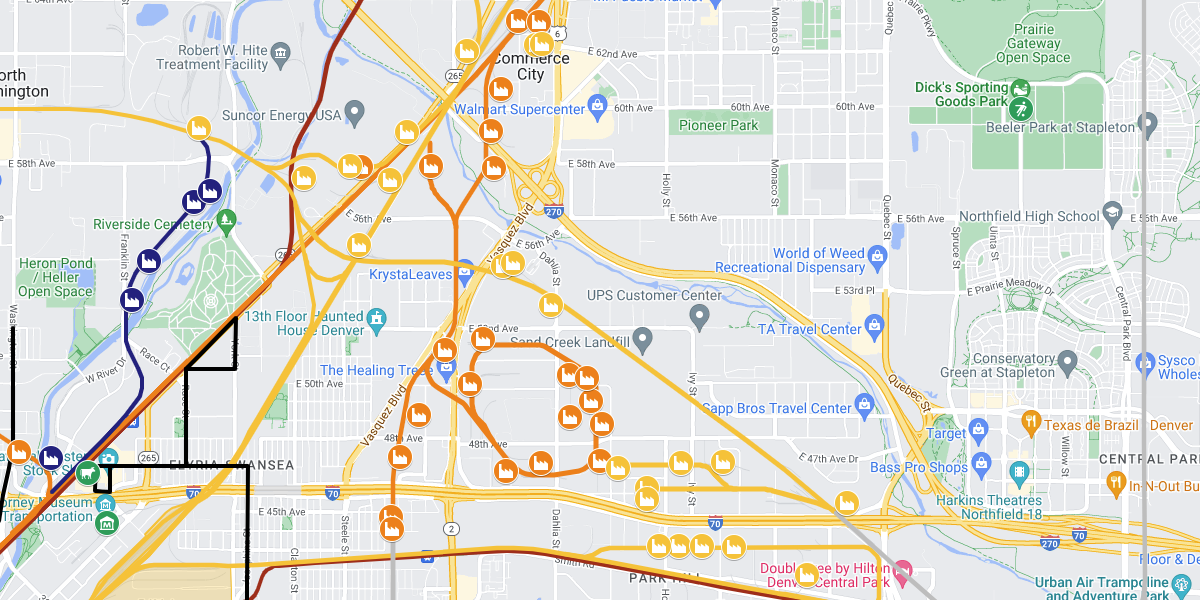 Colorado Rail Map
Greater Denver Transit (GDT) presents a comprehensive map of Colorado's rail infrastructure in collaboration with members of the Colorado Rail Passenger Association (ColoRail) and the Intermountain Chapter of the National Railway Historical Society (NRHS).
This is a map of all major railroads in Colorado and the Front Range Corridor organized by owner to ensure that future rail advocacy takes into account the networks of private and partner rail owners and operators along with sections of abandoned former-rail right-of-way that could potentially be rebuilt economically.
The map excludes short spurs <1 mile in length along with track on privately-owned client-sites which is not in scope for any potential adjustments in the interest of future intercity rail service.
Key Contributors: James Flattum, Noah Sponable, Ryan Keeney (Denver Streetcar).
Key
Red (Dark): Heavy Passenger Rail (Denver RTD-owned)
Red (Light): Light Rail and Streetcar (Denver RTD-and local city owned)
Red (Faint): Standard Gauge freight tracks (active and inactive) owned by passenger rail operators
Orange: The Burlington Northern and Santa Fe Railroad (BNSF) – Private Class I RR
Yellow: The Union Pacific Railroad (UP) – Private Class I RR
Green: Landmark Tourist Attractions
Blue (Dark): Class II and III Private Railroads
Blue (Bright): Amtrak
Grey: Abandoned Standard Gauge Track
Brown: Abandoned Narrow Guage